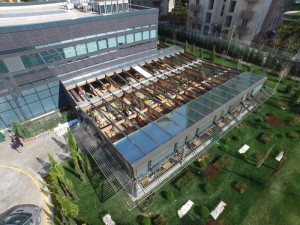 Inclined Retractable Skylight / Roofing 66% or 75% Opening, Thermally Broken Profiles and Insulated Glazing
RRG – RRP Systems Dimensions
Max Span : 12m (40') / 14m (46')
Max Width : 60m (196')
Operation : Motorized
Opening : 66% or 75%
Glazing : PC or Insulated Glass
Solaglide system is designed to provide excellent thermal and weather insulation for all climates. Thermally-broken mullions, insulated glass panels and structurally bonded to frames with extensive weather sealant components assure you safety and comfort. Main mullions, frames, gutters are manufactured from electrostatically baked-on power painted aluminum profiles. All other components are made of SS (stainless steel), aluminum or non-corrosive materials.
Hidden drive and automatic tensioning system built into the main mullions, provides protection from the environment and eliminates unsightly chains, cables, motor and similar drive components. Thermoplastic polyester cogged belt with steel reinforced cords are resistant to moisture, oils, UV and extreme temperature changes. Guarantee maintenance free operation for many years.
Everyone has a window seat with Libart Retractable Skylights
Who wants to be inside on a sunny day or in the dark in rainy days? Restaurant and cafe owners, make sure your clients have the pleasure of natural lights all the time and your outdoor seating is always revenue producing, no matter what the weather throws at you. Don't leave your customers in the dark with fabric or solid roofing!