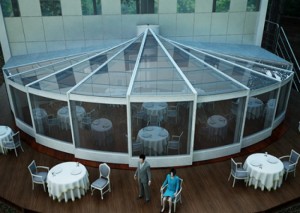 UC System Dimensions
Max Diameter : 19m (62')
Max Opening : 90° to 270°
Operation : Motorized or Manual
Glazing : PC or Glass
Libart has broken new ground in the world of kinetic architecture. This system is made at a diameter of 20 meters maximum, at a height of 3,4 m and with a capability of opening up to 270 degrees. The maximum height of the axis extends up to 10 m and in conjunction with this axis, it can be opened telescopically in both directions. The coating material of the system can be glass or polycarbonate according to your preference. Our motorized systems are operated by a PLC (Programmable Logic Controller) but it can be optionally used by a remote control. The front surface of the system can be made up of a stainless steel or of a special alloy at a size of 80×190 and by specially designed aluminum carrier profiles. It has a curved aesthetic appearance enabling opening and closing with the elegance of the fan. The system can be 90° – to 180° degrees (attached to a building) or 360° degree freestanding models.