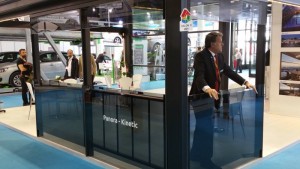 Semi-automatic operation, vertical sliding, aluminum balcony (balustrade) windows, with tempered and laminated glass glazing
Max Dimensions: W 1.6m x H 3.0m (for F models max H is 1.9m)
Glazing: Tempered glass or laminated glass
Operation: Semi-automatic, manually operated
Panora-Kinetic systems are vertically retracting glass balustrade & window systems. Panora-Kinetic systems provide all the benefits of a glass balustrade, with the addition of a wind & rain shield when required. Panora-Kinetic systems utilizes, hidden self-charging piston drive system that eliminates unsightly counter weights, thick profiles, cables and pulleys. Panora-Kinetic opens manually and closes automatically with simple touch.
To appreciate Libart's design philosophy of esthetics, function and simplicity you need to look at the Panora-Kinetic system from the outside, all glass façade. Due to Panora-Kinetic's structural glass framing system, virtually no supporting system can be seen from the outside. Internally, Panora-Kinetic system is supported with extensive structural and safety options to archive all necessary safety one expects from a balcony railing system.
Contact us and see how we can help with a new approach to your balustrade and balcony railing and windows.
Panora-Kinetic , esthetics, function and simplicity combined to provide "indoor comfort, outdoor freedom" spaces,